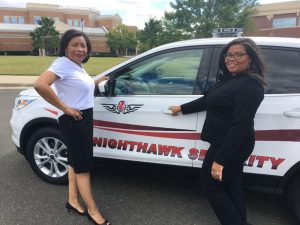 Night Hawk Security and Consulting, LLC, (Night Hawk) founded in 2007, is a privately-held Minority and Woman-owned Business with its corporate headquarters located in Raleigh, North Carolina. Night Hawk is currently certified as a North Carolina Historically Underutilized Business (HUB) and a Disadvantage Business Enterprise (DBE) with State of North Carolina Department of Transportation.
Night Hawk specializes in physical security services, armed and unarmed security officers and patrol professionals, training, consulting, and project management services for businesses, corporations, and government agencies.
We're a family-owned company licensed in North Carolina and Virginia to provide armed and unarmed security services.
Raleigh Professional security expert
The expertise of Night Hawk resides in its professional staff members with extensive experience in all aspects of contract security officer services, access control, project management, risk assessments, physical security program development, policy and procedure development, and security-related training.
We are a total physical security provider delivering cost-effective, integrated security solutions and process improvement offerings.
Night Hawk can advise you on any aspect of your security program.
---
Our Philosophy
We believe the following qualities distinguish us in the security field:
Competitive Pay: Our bill rate allows us to offer officers reasonable living wages that support our high morale and low turnover rates.
Accountability: An important element of our approach is our conviction that our business hinges upon trust and the need to be openly accountable to our clients.
Client-Centered: We will tailor our services to meet the needs of each of our clients.
Streamlined Communications: We understand that consistently effective communications will be critical to our success. Our clients have direct access to us. Our clients can speak directly with senior management who can address any issues that may arise. Night Hawk's senior management will routinely interact with clients to review performance and discuss any concerns, as well as, make periodic site visits to ensure the highest levels of client satisfaction are being achieved.
---
Night Hawk Core Values
Deliver the WOW factor Through Customer Service
Embrace and Drive Change
Diversity
Recognize and Reward top performers
Pursue Growth and Learning
Build Open and Honest Relationships with Communication
Build a Positive Team and Family Spirit
Be Results Oriented
Be Passionate and Determined
Night Hawk Mission Statement
Night Hawk's mission is "to provide security services to businesses that help protect the safety of their employees, visitors, and property."
---
The Services we offer include: