North Carolina Police Services
Night Hawk Company Police was created to fill a need for dedicated police services in the Durham and Wake County surrounding areas. In some areas, local Police Departments simply do not have the level of staffing to provide the dedicated police officers desired by organizations like local governments, communities, and others.
Company Police Officer Qualifications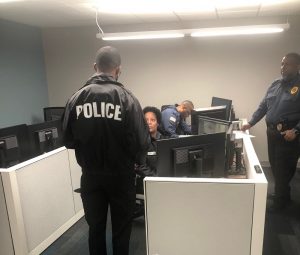 Night Hawk Company Police Officers are certified, sworn law enforcement officers in North Carolina with the arrest powers of municipal police officers. Night Hawk Company Police patrol and enforce the law and provide the same services within territorial jurisdiction as do municipal law enforcement officers.
Once the applicant has been officially sworn in by attesting to an oath of office, they will receive a commission from the Attorney General. This commission will give the company police officers the same subject matter jurisdiction as other sworn law enforcement officers to make arrests for both felonies and misdemeanors, as well as to charge for infractions. However, the authority of company police officers is subject to strict territorial jurisdiction limitations. To be commissioned as a Night Hawk Company police officer, our officers must meet the minimum standards required for employment and certification as a law enforcement officer in North Carolina, including completion of the Basic Law Enforcement Training course. Additionally, our officers must successfully complete an examination on the law and administrative rules governing company police with a minimum score of 80%.
The State of North Carolina passed Statute 74E to help lessen the burden on local municipalities by providing regulations for private police certification. The Night Hawk Company Police force maintains strict adherence to requirements of Statute 74E and other state laws to ensure proper training, certification, and qualifications for each of its officers. Night Hawk Company Police Officers are supervised by Chief Greg Lewis and currently serve in a government environment.
Benefits of Company Police Agencies
Company police agencies are a vital part of the criminal justice system's efforts in this state. Company police agencies supplement our state, municipal and county police agencies thereby relieving them of some of the calls-for-service that burden all law enforcement agencies.
Due to the specialized nature of company police agencies, it is important that state and local agencies and officers, as well as the public, fully understand the role of a company police agency and the officers they have commissioned.