Our Mission
Our mission is to provide security services to businesses that help protect the safety of their employees, visitors, and property.
Night Hawk Security and Consulting, LLC is committed to equal employment opportunity.  We will not discriminate against employees or applicants for employment on any legally recognized basis including, but not limited to:  veteran status, uniform service member status, race, color, religion, sex, national origin, age and physical or mental disability.
Our Philosophy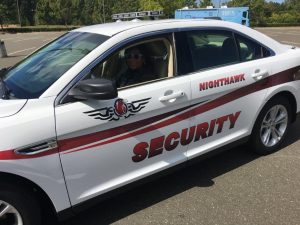 We believe the following qualities distinguish us in the security field:
Competitive Pay: Our bill rate allows us to offer officers reasonable living wages that support our high morale and low turnover rates.
Accountability: An important element of our approach is our conviction that our business hinges upon trust and the need to be openly accountable to our clients.
Client-Centered: We will tailor our services to meet the needs of each of our clients.
Streamlined Communications: We understand that consistently effective communications will be critical to our success. Our clients have direct access to us. Our clients can speak directly with senior management who can address any issues that may arise. Night Hawk's senior management will routinely interact with clients to review performance and discuss any concerns, as well as, make periodic site visits to ensure the highest levels of client satisfaction are being achieved.
Current Openings:
(Click job title for a brief description)
Once you have completed the Employment Application you can physically mail it or upload using our Form Below!
Mailing Address:
P.O. Box 30099
Raleigh, NC 27622