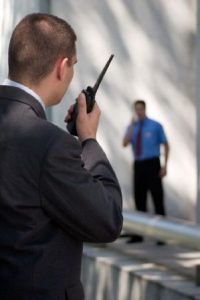 We Partner with You
Security Officers partner with you to secure your property and premises from theft, vandalism and unauthorized access; we protect your personal and visitors; we create an environment that is safe, engaging and inviting for personnel and visitors. We provide our clients with professional, certified armed and unarmed security officers. We maintain low employee turnover and high client retention rates.
Security personnel training and focus areas include ID cards and pass systems, package and delivery control, elevators, locks, video surveillance systems, fires, bomb threats, and natural disasters. Also as part of the security strategy, relationships with local fire, police, and or FBI are established. In fact, Night Hawk Security and Consulting in partnership with its client have participated in two presidential visits to the State of North Carolina.
High Expectations. Thorough Training.
Our security officers undergo a thorough professional and certified training which includes hours of classroom training prior to starting work on any assignment. This requirement applies to every officer and staff position we hire.
Each employee is held to a high level of performance and our security officers are specifically recruited, uniformed and trained to represent the client organization; undergo a criminal background check, drug screening and are registered with the appropriate local and state licensing boards.